UC Academic Workers turn out by the thousands!
UC Academic Workers came out in massive numbers for membership meetings across the state last week, including over 1500 workers at UC Berkeley/LBL and over 1000 workers at UC San Diego. Words don't do justice to what a powerful display of unity these meetings were, so please watch (and share!) this video and check out the pictures below!
Over 1500 Academic Workers rallied at UC Berkeley.
Over 1,000 Academic Workers gather at UC San Diego for the largest-ever action on that campus.
Workers are sending a powerful signal to UC that 48,000 Academic Student Employees, Academic Researchers, Postdocs, and Student Researchers are determined to win fair contracts. And there's more meetings this week!  If you're an academic worker at UCSF, UCLA, UCD, UCI, UCSB, and UCM, you can help build power at the bargaining table by RSVPing here!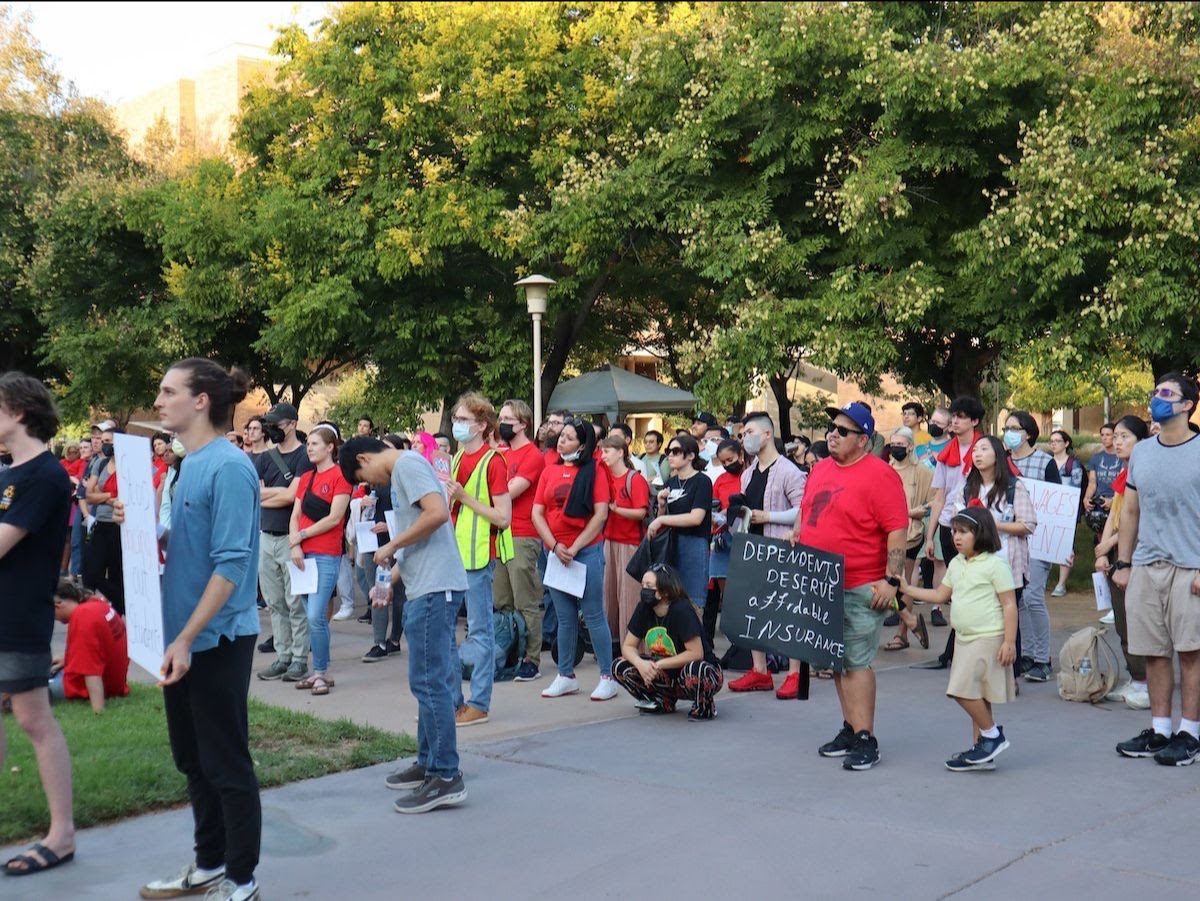 Nearly 300 Academic Workers gather at UC Riverside.
Bargaining Update
Last week Academic Researchers and Student Researchers both had bargaining sessions, while Academic Student Employees and Postdocs will both resume bargaining this week. Please read on for a *brief* summary of what happened in each of last week's bargaining sessions (you can click here for more detailed info on the latest proposals for each unit):Academic Researchers
During last Friday's bargaining session, we saw movement from UC that brings us closer to securing union membership election forms in the HR onboarding process of new ARs. This will ensure that every new AR has an opportunity to learn about and join our union right away. Although it was a positive move, we did not sign any tentative agreements. We highlighted the demand for Bridge Funding once again, emphasizing the importance of it in strengthening job and research continuity. The next bargaining sessions are on Oct 14 and 21, from 1-3PM – RSVP here to attend.
Academic Student Employees
ASEs will bargain this week on Wednesday October 12th from 1-3PM. UC has yet to respond to our wages proposal, which would set a minimum ASE salary of $54,000. Over 350 workers turned out to our wages bargaining session two weeks ago to put pressure on UC to pay fair wages. RSVP here to attend this week's ASE bargaining session.
Postdocs
We will be bargaining twice this week (today from 3-5 and Wednesday from 10-12), RSVP here if you want to attend. At our last session UC made a wage proposal that doesn't come close to our proposal of $70,000, which is the minimum amount needed to lift all Postdocs out of rent burden (housing costs exceeding 30% of income). Other institutions (in areas with much lower housing costs) are already paying Postdocs this much, so UC should too. And as the ongoing mass membership meetings will make clear, with 48,000 Academic Workers united and ready to take mass collective action, we have no intention of accepting anything less than fair working conditions for all.
Student Researchers
This week, Student Researchers focused negotiations on international scholars and international support, passing a proposal that would guarantee programs giving advice to international workers. The proposal would also allow leave time to attend immigration appointments for student researchers and their families, and require the university to cover common visa processing fees. SRs are continuing to negotiate over strong workload protections with the ability to expedite the arbitration of complaints. You can RSVP to this week's bargaining session here.
Lastly, please don't hesitate to reply to this email with any questions or about other ways to get involved in bargaining—winning what we deserve means everyone needs to be on deck!
In solidarity,
UAW 5810 Academic Researcher Bargaining Team
UAW 2865 Academic Student Employee Bargaining Team
UAW 5810 Postdoc Bargaining Team
SRU-UAW Student Researcher Bargaining Team